Sit back and relax knowing that your wall paper removal project will be completed promptly, and affordably.
Taking down wall paper can be a big project. Homeowners often underestimate the difficulty of this particular home improvement project, which means they don't give themselves enough time to complete it correctly.
Don't take the risk of damaging your walls or wasting time with a slow removal process. The professionals at Heiler Painting can do it quickly and efficiently to save you time and money.
No matter what type of wallpaper you have on your walls, be it floral or geometric, professional wallpaper removal specialists have the tools and skills to remove it without damaging your walls. We'll also prep your walls for another surface treatment, such as paint or new wallpaper.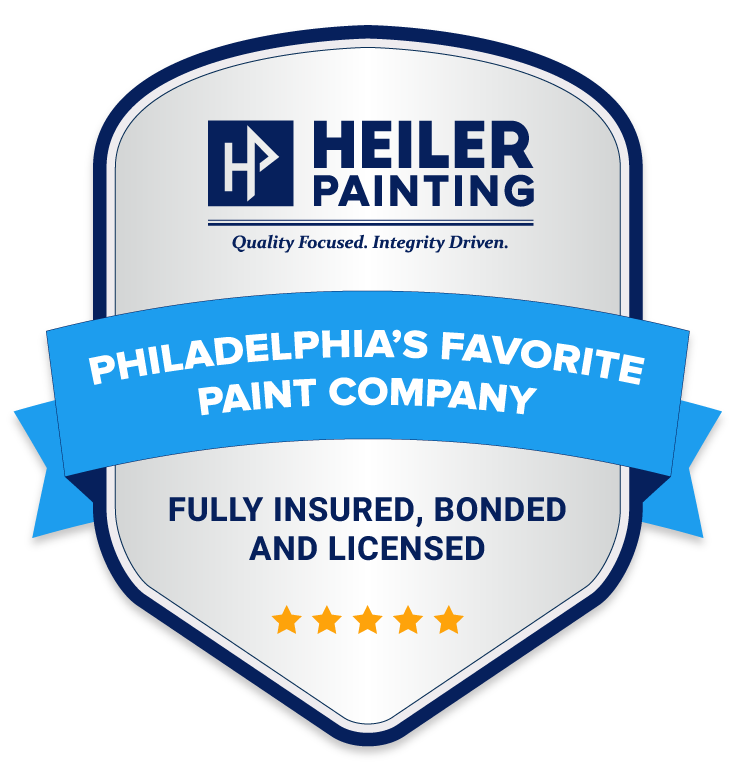 Why choose Heiler Painting for wall paper removal services?
Wall paper removal process is a tedious, frustrating and long process – one that is also challenging and risky if done incorrectly. Our ability to deliver impeccable results is the reason why our customers trust our wall paper removal services.
Over 4,000 completed projects
Trusted for over 10 years
Over 500 5-star reviews
Upfront flat-rate pricing every time
Certified, highly-trained painters
At Heiler Painting, we offer competitive prices for both wall paper removal and painting, ensuring that our customers get the most of every project without sacrificing quality or service.
Our wall paper removal prices are based on a variety of factors, including size of the room, amount of glue used on the existing wallpaper, and shape and layout of the walls. We'll also help you remove wall paper from your home in an environmentally friendly and efficient manner.
If you'd like to have wall paper removed from your home, we recommend that you speak with our highly-experienced painters for an accurate price estimate.
In order to give you an accurate idea of our prices, we recommend that you get in touch with one of our wall paper removal specialists for a free estimate of your next project.
See what are customers think about our wall paper removal services
Heiler Painting was excellent from Cameron Jordan, who walked me through the details of the work and provided the estimate, followed by color consultant, Kayla who helped choose beautiful color combinations, to the crew who painted. The painting contractors were amazing. They started each day at 8 am and stayed until 4 pm. They worked quickly and expertly. I highly recommend the Heiler Painting team!

I recently had two rooms and a hallway painted and a bit of carpentry work done by Heiler. I could not have been more pleased. The painters did an amazing job. They were nice, professional, punctual (arriving actually earlier than I'd expected), neat and clean, conscientious, took obvious pride in their work. The carpentry work that was done was to the same level of perfection as the painting; everything was perfect.

Everyone showed up on time, made sure none of my belongings got dirty/paint on them and finished in record time! They even touched up a couple spots from the previous paint job on the ceiling (not their work). Great and super responsive owners as well. Will definitely be using them again for other paint jobs that I cannot do myself.

Rick and Mel from Heiler Painting were at our house for several days painting recently. They were two of the nicest guys and they did an absolutely fantastic job! Very detail oriented, quick and thorough in their work. We would definitely recommend Heiler Painting to others. Great experience overall! Thanks to Sean as well for all his guidance with our job and for his immediate responses to texts, etc. A++;)

Heiler Painting did a very good job and really hustled to complete the work on time. The crew was polite and thoughtful, they were neat during the course of the job, and they cleaned up nicely when everything was done. Dereka in the office was also very professional and a pleasure to work with. Heiler was a very professional company from start to finish!

Heiler Painting did a wonderful job painting our first floor! They removed old wallpaper, repaired drywall, and painted with such attention to detail. The team that painted was friendly and routinely checked with us to make every thing looked the way we expected. We are looking forward to the upstairs being painted next month. I will confidently recommend your company to all our local friends and neighbors.

Heiler Painting has done both exterior and interior painting for us and we could not be more pleased. The most recent project was painting our dining room that had previously been wallpapered. Our work crew, Steve, Mike and James, was prompt. courteous, and hard-working. They did a particularly good job prepping the plaster walls. Heiler is a a family-owned business that we will continue to use and to recommend.
Recent Wall Paper Removal Projects
Wall Paper Removal FAQs
How much does wall paper removal cost?
Professional wall paper removal costs may vary depending on the size and the complexity of your job. Before providing an estimate, we will take some things into consideration including how much wallpaper needs to be removed and the paper's condition. Costs may also increase for rooms with high ceilings, such as foyers and stairways, which require additional preparation and equipment.
How long does wall paper removal take?
The amount of time it takes to remove wall paper varies depending on the thickness of the paper, how well adhered it is to your wall surface and how many rooms need updated. It's helpful to keep in mind that tearing or ripping rather than carefully cutting off sections can cause damage to the underlying plaster or drywall.
Do I need to remove my wall paper before painting?
No matter the look you're trying to achieve, from antique charm to modern minimalism, removing old wall paper is a step you should never skip. If you do not remove the existing wall paper, you will not get the painting results you would expect.
Can I apply new wall paper over old wall paper?
While this may seem like a quick, easy way to hide imperfections in your old wall paper, it can lead to peeling and eventual damage to your walls. Plus, if there is damage to the old wallpaper, covering it with new wall paper will likely make it worse. Most manufacturers will void any warranty on products installed over existing wallpaper.