Crown molding painting and trim painting are excellent investments for your home's interior.
Trim, baseboards and crown moldings are the perfect final touch for any room, giving them an elegant and visually appealing look. However, with the lengthy supply list (e.g. paint, tape, brushes, clothes, ladders and more), painting crown molding can be somewhat time consuming if you decide to do it yourself.
Fortunately, the professionals at Heiler Painting know exactly how to get the job done. By using the right paint, brushes and techniques, we can update your interior promptly, professionally and affordably.
If you are looking to update your home, or simply give one room a facelift, let the trim painting experts at Heiler Painting help.
Call us today at 610-638-7485 to see how we can save you time and hassle on your next home improvement project.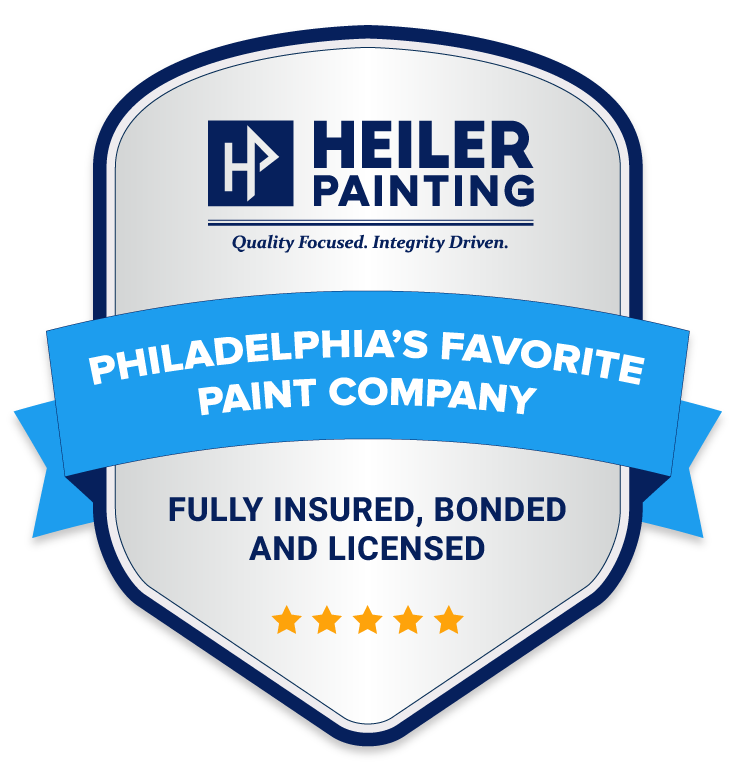 Why choose Heiler Painting for your next crown molding and trim painting project?
Our interior painting experts will work with you to create the perfect look for your home at an affordable cost. All you need to do is decide what kind of finish and color you like and we'll take care of the rest! See below to find out why customers in Philadelphia trust Heiler Painting:
Over 4,000 completed projects
Trusted for over 10 years
Over 500 5-star reviews
Upfront flat-rate pricing every time
Certified, highly-trained painters
Are you thinking you need a change but a big project might be too much of a hassle?
If so, repainting the trim in your home – or simply a few statement rooms – can bring about a huge transformation with less time and money than a renovation. And with Heiler's trim painting services, we can provide you with a quick, Instagram ready look.
See below for some of the trim painting services that we offer:
Fireplace mantels
Baseboards
Door casings
Wainscoting
Curved areas
To see how we can transform your crown molding and trim, call the Philadelphia interior painting experts at Heiler Painting 610-638-7485 today!
See what are customers think about our trim painting services
Heiler Painting was excellent from Cameron Jordan, who walked me through the details of the work and provided the estimate, followed by color consultant, Kayla who helped choose beautiful color combinations, to the crew who painted. The painting contractors were amazing. They started each day at 8 am and stayed until 4 pm. They worked quickly and expertly. I highly recommend the Heiler Painting team!

The workers were very patient and meticulous with their skills! Included in our contract fee-they also replaced pieces of rotten wood and repaired the stucco pieces that feel from our chimney several! My husband and I are very pleased with their services!

Heiler Painting recently completed two projects for us: they washed and painted the outside of our house then came back a month later to refurbish our wooden deck. The were professional, knowledgeable, responsive, and very easy to work with. We especially liked having the same crew back for the second job. Thanks to Rick, Dwight, Ricky, and "Pops".

I recently had two rooms and a hallway painted and a bit of carpentry work done by Heiler. I could not have been more pleased. The painters did an amazing job. They were nice, professional, punctual (arriving actually earlier than I'd expected), neat and clean, conscientious, took obvious pride in their work. The carpentry work that was done was to the same level of perfection as the painting; everything was perfect.

Excellent job on my exterior shudders! Really brought the house back to life. Rick was tremendous. He was the foreman on the job but was there everyday WORKING! True professional who went ABOVE AND BEYOND!!! And you can't beat their referral program! Highly recommended.

Everyone showed up on time, made sure none of my belongings got dirty/paint on them and finished in record time! They even touched up a couple spots from the previous paint job on the ceiling (not their work). Great and super responsive owners as well. Will definitely be using them again for other paint jobs that I cannot do myself.

Rick and Mel from Heiler Painting were at our house for several days painting recently. They were two of the nicest guys and they did an absolutely fantastic job! Very detail oriented, quick and thorough in their work. We would definitely recommend Heiler Painting to others. Great experience overall! Thanks to Sean as well for all his guidance with our job and for his immediate responses to texts, etc. A++;)

Heiler Painting did a very good job and really hustled to complete the work on time. The crew was polite and thoughtful, they were neat during the course of the job, and they cleaned up nicely when everything was done. Dereka in the office was also very professional and a pleasure to work with. Heiler was a very professional company from start to finish!

Excellent and professional work on my ceiling. Thank you.

I highly recommend Heiler. I want to share a special shout out to Steve the foreman. He was customer driven, hard working and set high expectations for himself and his team. He managed his team with respect and professionalism. Steve stayed late to move the project along and was a meticulous cleaner. He's terrific and the reason I'd go back to Heiler for another project. They did a beautiful job.
Recent Molding & Trim Painting Projects
Crown Molding & Trim Painting FAQs
What paint should I use for painting crown molding and trim?
Semi-gloss and high-gloss paints are ideal for trim and crown molding because they make every detail stand out. Shiny paints are easier to maintain than flat or eggshell paints, which reflect light less effectively. This means that you won't have to repaint as often if you choose glossy paint for your crown molding.
What's the best color for trim and crown moldings?
When choosing a paint color for your room, think about how light will affect it. If you want to make your space feel larger than it is, use light colors like white or cream. Darker rooms will look smaller when painted with light tones.
What are some tips for painting crown molding and trim?
If you're painting the crown molding a light color, apply primer and two coats of paint to ensure good coverage. Always allow each coat to dry for the time frame specified on the product label. Some moldings may need a bit of repair or scraping or filling in nail pops.
Do I need crown molding in every room?
If you're thinking about adding crown molding to your home, think about the style of your home and what you want it to say about you. If you want to make a statement, adding crown molding to every room can help you do that. If you prefer a more understated look or want something that's more versatile and can be used in many different rooms, then using it sparingly may be the way to go.